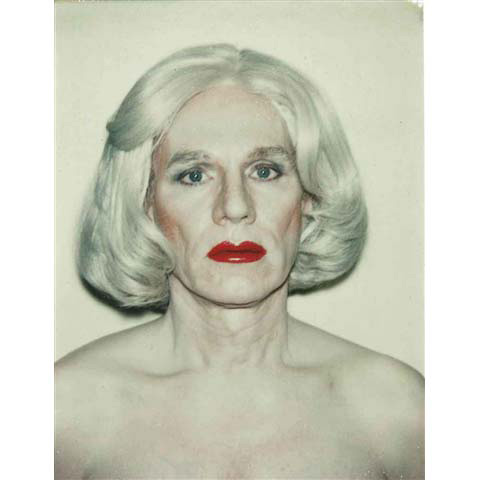 Andy Warhol Self-portrait in drag
(Monroe wig)
I am back to Borges.
I needed an antidote. Saw an ad this morning for a major chemical corporation, the name of which resonates from the time of the Vietnam War and the occasion of death by formula made product.
Seeing the death star's new slogan was too much. No need to be specific. No need for proper nouns locating actions more improper than the imagination can create.
Lately I've been remembering the truism: You aren't responsible for your first thought but you are for the thoughts which follow.
So I'm being responsible. "
We live discovering and forgetting

/ that
sweet familiarity of the night." Offering a chance to suck your breath in and marvel. This poem is translated by A.S. Kline.
(The Andy Warhol self-portrait kinda turns the table on the adoration here. Well, maybe it doesn't turn tables so much as expand the possibilities. More expansion, ahead.)
The Sum
The silent friendliness of the moon
(

misquoting

Virgil) accompanies you
since
that one night or evening lost
in
time now, on which your restless
eyes
first deciphered her forever
in
a garden or patio turned to dust.
Forever?
I know someone, someday
will
be able to tell you truthfully:
'You'll never see the bright moon again,
You've now achieved the unalterable
sum
of moments granted you by fate.
Useless to open every window
in
the world.
Too late.
You'll not find her.'
We live discovering and forgetting
that
sweet familiarity of the night.
Take a long look. It might be the last.
_____
Jorge Luis Borges, tr. by A.S. Kline, @2008