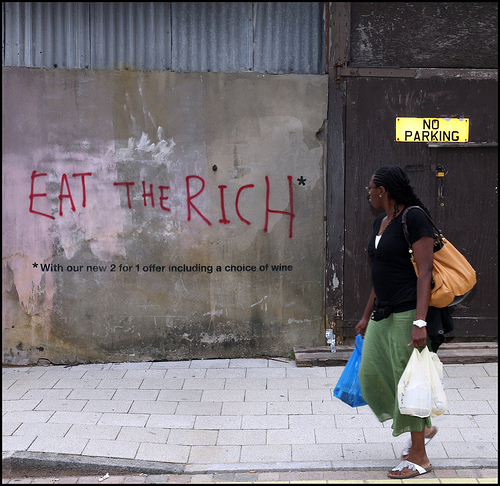 While the poor are, as we learned last Friday, an abundant source of food to be be dressed up or down for any number of recipes, there is, in truth, nothing more succulent than the rich.
Pampered and well-fed on finest meats, fishes and vegetables, flowing with cold-pressed virgin olive oil, they make for one tasty meal. Yes, they are hard to digest while they live, but, ironically they go down real easy.
Be they millionaire or billionaire, the rich can only improve with cooking. There's something about lack of compassion and unrestrained greed that makes for a finger-lickin' meal. Don't worry, a few good apples, George Soros or Warren Buffet, won't spoil the rotten barrel.
Sarah, do you have any suggestions on which rich people to eat? I do! Did you see the article about human trafficking in Afghanistan? DynCorp, an American corporation the United States government contracts with, entertained Afghan clients with child sex slaves. Read the rest or as much as you can stomach at Change.org's article:
End Human Trafficking
.
Don't know about you but I would to see DynCorp's leadership grilled, fried, barbecued or, for the diet conscious, boiled alive. Sarah, what are their names? Steven F. Gaffney, William T. Kansky, William T. Kansky, Gregory Nixon and Ashley Vanarsdall Burke.
Just click on DynCorp's "
leadership
" page and marinate.
I filed an RFR (Request for Recipe) on their
Ethics Page
. Took a few minutes but felt satisfying as roast beef and mashed belly. DynCorp pulled the same trick in Bosnia, as reported in
Salon
. Rich people? A classic.
Photo is street art by Banksy.