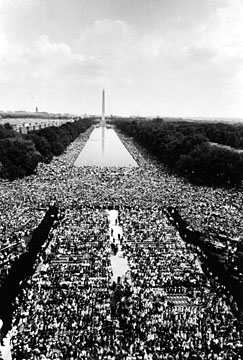 By way of contrast, I just heard the
following
from a public radio moderator who was joking with a Washington, D.C. pundit: "On Martin Luther King Day, when we're supposed to be
nice
to everybody..."
We're not being asked to be
nice
. We're being asked to have absolute faith that in our lifelong struggles to achieve equality in a world which revels in its inequalities, to a world in which millionaires cheat and lie and get away with it and elected officials harm THE PEOPLE, to not strike back but move forward.
To move forward and know we achieve an ultimate redemption, that we'll be—that we are—rescued from life's ugliness by our very actions. A life of firm but nonviolent political action is the ultimate status symbol. Not whatever is extolled on magazine covers showing the rich and airbrushed. Dr. King is still smashing false icons in the temple of capitalism.
Poem for My Love
How do we come to be here next to each other
in the night
Where are the stars that show us to our love
inevitable
Outside the leaves flame usual in darkness
and the rain
falls cool and blessed on the holy flesh
the black men waiting on the corner for
a womanly mirage
I am amazed by peace
It is this possibility of you
asleep
and breathing in the quiet air
_________
June Jordan, from
Directed by Desire: The Collected Poems of June Jordan
, Copper Canyon Press.